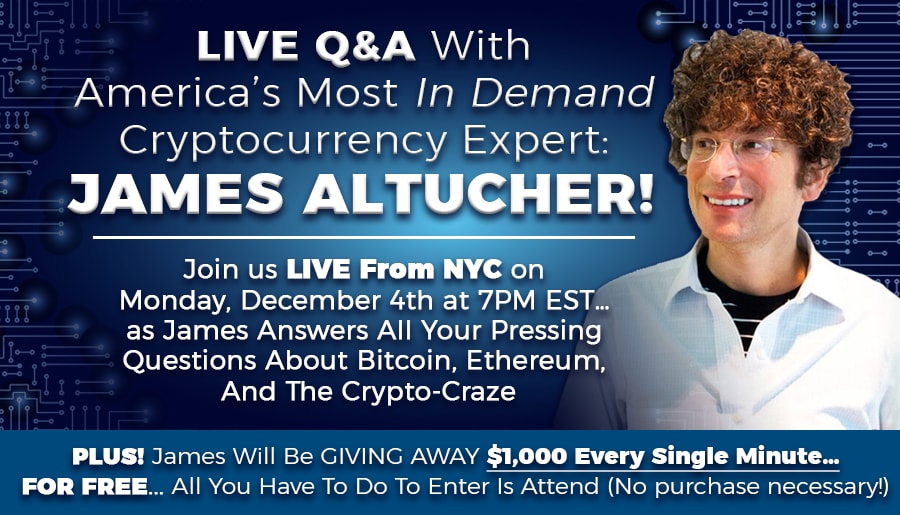 Live Q & A with James Altucher
Monday, December 4, 7PM EST
Online From the Comfort of Your Own Home
I'm giving away $1,000 every Single Minute on Monday night... use it toward purchasing your own cryptocurrencies, or whatever you'd like. Read below to learn how you could get your share
— Sign Up For Free Here —
Spots are limited, please enter your email address below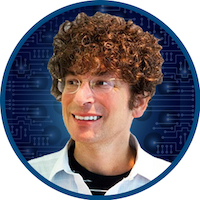 Hey, James Altucher here.
On Monday night I'll be turning on the camera live from my apartment overlooking New York City…
And answering your most pressing questions on Bitcoin and the other 1,300+ cryptocurrencies…
Why?
You've probably heard about Bitcoin's meteoric rise over the last six weeks recently hitting $11,365 in overnight trading.
Just eight weeks ago it was trading at just $4,200. That's a 130% gain in just 6 weeks!
But because Bitcoin has risen so much, so fast...
There are many questions surrounding Bitcoin and other cryptocurrencies right now...
Is Bitcoin in a bubble?
Since it's gone up so much have I missed my chance to make money?
If I don't know anything about cryptocurrencies how do I get started?
I'm going to answer all of YOUR most burning questions on Monday evening at 7PM EST.
And I'm also going to do something most people call completely CRAZY…
Along with the unscripted, totally unplugged event where I answer your questions, I'm going to be GIVING AWAY $1,000 every minute.
Said another way, every five minutes, five different people will win $1,000 each.
That means I'll give away $1,000 to at 7:01pm…
I'll give away $1,000 more at 7:02pm…
Another $1,000 at 7:03pm…
And on, and on, for as long as you keep submitting questions during the Q&A.
And no, this IS NOT one of those offers where you'll have to buy a product of mine to get the giveaway.
All you have to do is attend the event for your chance to win…
And every minute I'll simply give away $1,000.
Why do this?
Because I've been involved in Bitcoin since 2013 and the investment potential is as big as I have ever seen.
A few years back, I had just finished writing my 15th book. But I didn't want to just put it on Amazon like everyone else.
So I did something completely crazy.
I built an online store that sold my latest book. But I didn't accept cash or credit. It was for sale for Bitcoin only.
As far as I know, this was a first.
And I was ridiculed live on TV by a CNN host.
But today, just four years later, more than 250,000 Japanese retailers are set to start accepting it.
And like I said Bitcoin is up 1,340% in the last year... and almost tripled in price in the last eight weeks alone...
No one's laughing at me now.
Instead, CNBC invites me to discuss the soaring cryptocurrency with the talking heads. Now they want to know more about why it's climbing...
And believe me -- the gains are just getting started.
Yet so many people still have questions!
So I'm going to fix that…
First, by answering your questions. Remember, I can't provide any personal investment advice though.
And second, by showing you just how easy it is to actually own and store bitcoin.
That's why I'm giving away $1,000 every minute during this completely, 100% LIVE event.
And during that event you can ask me anything! (The harder the questions, the better!)
Although I can't provide any personalized investment advice... I can answer any questions you have about the burgeoning cryptocurrency sector.
It's trend so massive, and unstoppable, you could make not 10x or 100x but as much as a seemingly unbelievable 1,000x times your money playing the right cryptocurrencies.
And I'd like to show you how.
That's why I'm hosting the live webinar where I'll share with you everything I've discovered.
I'm confident using this approach you could turn a small $1,000 investment into $10,000 in just a year. Or with a little more time that same $1,000 investment could turn into $1,000,000!
Crazy claim I know... which is why I am hosting this limited time webinar to explain myself.
Join me for this 60-minute event and bring your questions for me!
And you can attend in the comfort of your own home, online, for free.
Simply sign up below to get access. And we'll go live on Monday, December 4th at 7PM EST.
See you there.

James
Live Q & A with James Altucher
Monday, December 4, 7PM EST
Online From the Comfort of Your Own Home
I'm giving away $1,000 every Single Minute on Monday night... use it toward purchasing your own cryptocurrencies, or whatever you'd like. Read below to learn how you could get your share
— Sign Up For Free Here —
Spots are limited, please enter your email address below